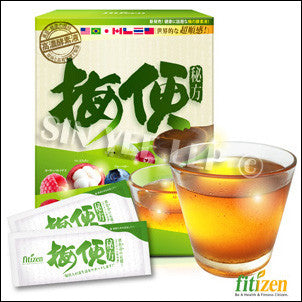 【Fitizen】 梅便秘方 (25ml x 15)
$34.00 $59.00
Product Details:

In handy & hygienic sachet
15 sachets/ box ; 25ml/ sachet

Expiry date: April 2018

Produced in Taiwan
Highly recommended by popular Taiwan variety shows 【上班這黨事】, 【一袋女王】


Basic Ingredients:

Plum, acai berry, acerola cherry, blackberry, blueberry, cranberry, wolfberry, grape seed, mangosteen, maqui berry, pomegranate, raspberry, strawberry, citric acid, inulin, pineapple enzyme, bromelain, amylase, lactase, proteolytic enzyme, yeast, ginseng extract, lactobacillales, fructooligosaccharides, xylooligosaccharides, soluble corn fiber etc...



Main Functions & Benefits:
Alleviate constipation & promotes intestinal peristalsis

Relieves fatigue, boost immunity & metabolism

Aids digestion & absorption of nutrients
Improves lusterless complexion & aids weight loss


Ways to Consume:
1-2 sachets daily; best to consume after food

Dilute with water (amount based on individual preference)

Add to yoghurt, carbonated water, green tea, salad, fruits etc


Important Note:
Not suitable for pregnant women.
Individuals who are prone to allergies, on medication and breastfeeding mums, consult your doctor prior to consumption.
Please consult doctor before and after surgical procedure on consumption of this product.
It is a normal for product to experience slight powder coagulation and color change when in contact with moisture in the atmosphere. Product is safe for consumption.
Once sachet is opened, please consume as soon as possible.
Store product in dry cool place, away from direct sunlight. 


Special Note:
For [Outlet Version], there is slight defect to the outer packaging. Content is the same as [Normal Version]